As the highest policy and management body of the Company, Advantech's Board of Directors not only formulates regulations and measures in accordance with relevant laws and regulations and the powers entrusted by the shareholders' meeting, but also supervises each item of implementation results.
Key Responsibilities of the Board of Directors:
Review corporate business plan.
Review the financial report of the Company.
Formulate a valid and proper internal control system.
Supervise and handle all risks faced by the Company.
Design and formulate the direction, strategy and tactics of corporate management.
Hiring or dismissal of an attesting CPA, or the compensation given thereto
Biographies
Title
Name
Selected Education & Past Positions
Chairman
K.C. Liu

Current Positions : Founder of Advantech、Honorary Director of Intelligence Industry Computer IoT Association
Experience : CEO of Advantech、Former salesman of Instruments Dept. of Hewlett-Packard
Education : Department of Telecommunications Engineering, National Chiao Tung University

Director
Advantech Foundation.
Representative Chaney Ho

Current Positions: Independent Director of Giant Manufacturing Co., Ltd.
Experience : General manager of Advantech、General manager of Le Wel Co., Ltd.
Education : Tatung Institute of Technology ,Taiwan

Director
AIDC Investment Corp.
Representative Donald Chang

Current Positions: Independent Director of CHUNG HWA PULP Corp.、Independent Director of E INK Holdings Inc.
Experience: President of Greater China of 3M
Education : Chinese Culture University

Director
K and M Investment Co., Ltd
Representative: Wesley.Liu

Current Positions: Director of Advantech Human Resources Department
Experience: Director of Advantech Intelligent City Services Co., Ltd.
Education : Johns Hopkins University GMBA

Independent Director
Jeff Chen

Experience: VP of Stanley Black & Decker and President of Asia Region
Education : EMBA, Northwestern University

Independent Director
Benson Liu

Current Positions: Independent Director of Global Unclip Corp.、Independent Director of Vanguard International Semiconductor Co.
Experience: Chairman and President of Bristol-Myers Squibb (Taiwan) Ltd.
Education : Master, International Business Administration, University of Northrop, USA

Independent Director
Chan-Jane Lin

Current Positions : Professor, Department of Accounting, National Taiwan University、Independent Director of Focal Tech Systems Co., Ltd.
Experience: Independent Director of Fubon Securities Co., Ltd.
Education : Ph.D. in Accounting ,University of Maryland
List of Board members, Professional Expertise and Industry Experiences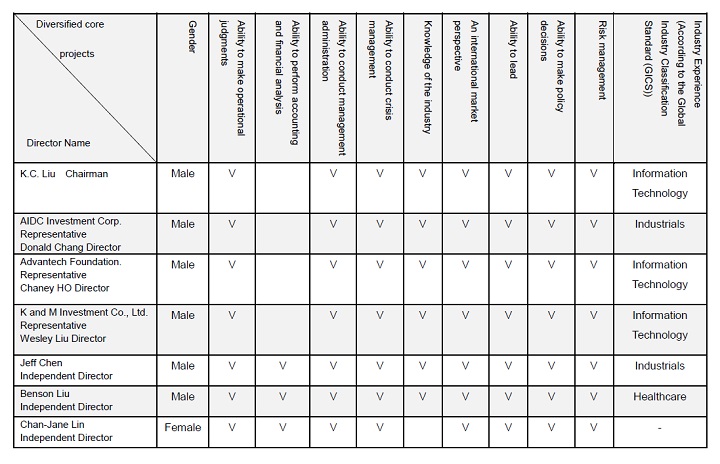 Chairman K.C. Liu and Director Chaney Ho are the founders of Advantech, and they have led Advantech to become the world's largest industrial computer company.
Wesley Liu has industry knowledge and practical experience in intelligence(SI) city and smart retail system integration solution. Director Donald is the former President of 3M China Region and possesses leadership ability and an international market outlook.